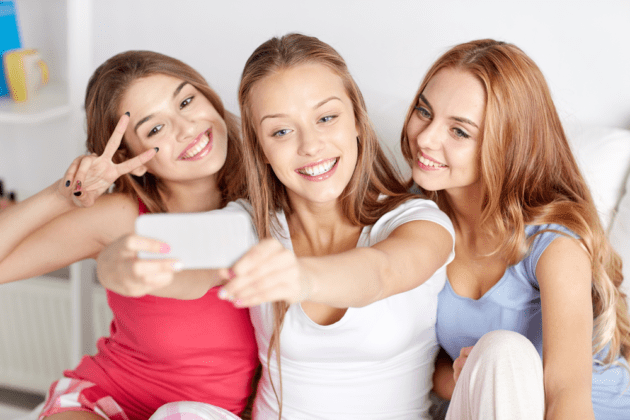 2020 is right around the corner and it's a time for new beginnings for you and your entire family. Many parents of pre-teens and young teenagers know that orthodontics are in their child's future but may not be aware of all of the options available to them. Invisalign® Teen is one such option that many parents don't know much about. They (mistakenly) think that Invisalign® is an expensive, cosmetic option for adults.

In fact, Teens love Invisalign® aligners because they are transparent, comfortable, and removable. And here's some good news for parents: at Cherry Orthodontics, Invisalign® treatment costs the same as treatment with traditional braces. Here are five reasons why teens just love Invisalign®: 
Teens Love Clear Aligners
Let's be honest: we're going to cover five reasons teens love Invisalign® but we could really stop right here. Invisalign® aligners are nearly undetectable. We can straighten their teeth without anyone even knowing that they are going through the treatment. This allows your child to skip a lot of the awkwardness we all remember from our own experiences with traditional metal braces. Want to see the end-result? Have your teen check out our cool new SmileView tool for a preview!
Invisalign® Teen Is A Comfortable Option
Invisalign® is made from a smooth, comfortable material that rests easily in the mouth. The trays are made for ease of wear and are precision-molded to fit your child's mouth. Teens experience far fewer issues to their teeth, gums, and inner mouth from metal wires and brackets poking them unexpectedly. Soft tissue irritations are dramatically reduced via Invisalign®. 
Invisalign® Suits Your Teen's Active Lifestyle
Does much of your afternoon and weekend amount to driving your kids to and from practices, clinics, and camps? If your son or daughter is engaged in contact sports, Invisalign® Teen is a safe alternative to traditional braces. We'll make sure they have a custom mouthguard to replace their Invisalign® tray. They won't need to change their activities and can continue playing their best!
Teens Love Easier Dental Hygiene
Invisalign® clear aligners can be removed to brush and floss teeth. This makes it far easier to keep up with regular dental hygiene and reduces complications. Your teen can also continue to eat the foods they enjoy. And as a bonus, the removable trays can be regularly cleaned at home, allowing your son or daughter to feel like their mouth is fresher, longer.  
Fewer Orthodontics Visits
Our teen patients typically spend less time in our office with Invisalign® compared to other treatments. Appointments are usually needed about every 2-3 months with many treatment cases resolving inside of a year. This means more time for your teen to do the activities that they love – and fewer trips to the orthodontist for mom and dad.
Take the First Step On Your Journey
Regardless of which orthodontic treatment you choose, the professionals at Cherry Orthodontics have the experience and expertise to help you select the option that's right for you and your teen. We are specialists at straightening teeth for both children and adults and take pride in our ability to create beautiful smiles that will last a lifetime. Begin your journey by calling call our office in Bethlehem or Schnecksville at (484) 265-9380, or schedule an appointment online today! We'll help you select the treatment option that's best for you or your loved one.